Raising Peace Festival 16-26 September 2021
You're invited to join 'Raising Peace' a festival of over 30 organisations devoted to the pursuit of peace.
About this event
Click "Register" for more information about each event and to sign up.
All Festival events are FREE!
Please note that all times below are Australian Eastern Standard Time (AEST)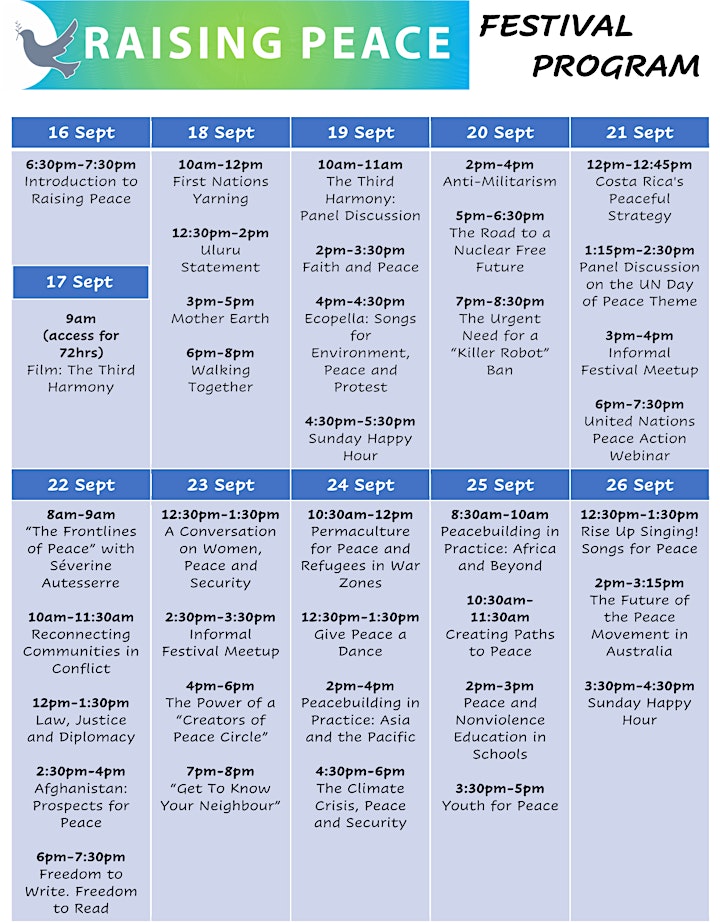 The Raising Peace Festival will be held online from 16 – 26 September 2021 as part of the world-wide observance of the International Day of Peace on September 21. Each year on this day, the United Nations calls for 24 hours of non-violence and cease-fire.
The impulse for peace within the Australian community has a long history and remains strong. But global peace feels increasingly threatened by climate change, the pandemic, militarisation, marginalisation and escalating local conflicts. Rather than standing for peace, some of our leaders seem to be eager to beat the drums of war. Raising peace is a way to raise the profile of peace and to revive it as a topic of conversation, at a time when this is becoming an urgent need.
Some 30 events will be featured at the Festival. Raising Peace will explore the significance peace has to First Nations people, women, youth, refugees and the environment. It will look at the different ways we define and understand peace, from the absence of war to peacekeeping, peacebuilding and peacemaking. It will equip participants with inspiration and ideas to make their own contribution to peace.
Raising Peace has seen more than 30 organisations come together in this common cause. It is a rare coming together of peace groups from widely different traditions, from groups boasting more than a century of work for peace, to others that are responding to our newest challenges to peace.
Join us as we celebrate and express the necessity for peace through panel discussions, webinars, forums, workshops, films and more. Join us in moving towards a world that is less war-ravaged, more equal, just, inclusive, sustainable, humane and healthy.
Raising Peace was initiated by International Volunteers for Peace (IVP), the Women's International League for Peace and Freedom (WILPF) and the Independent and Peaceful Australia Network (IPAN). A full list of participating groups can be found at the Raising Peace website, raisingpeace.org.au
Sessions will be recorded and available on the Raising Peace website after the Festival.
A detailed calendar of events can be found here
Click "Register" for more information about each event and to sign up.
"CHÁVEZ" – Supporting the Venezuelan people
When Thursday, September 30th, 7.00PM
Book and get link:
https://www.trybooking.com/BUELL
Movie night with the Venezuela Solidarity Campaign to raise support for a childcare centre in rural Venezuela."CHÁVEZ" Thursday, September 30th, 7.00PM Book and link to the Film:
https://www.trybooking.com/BUELLFilm/ Documentary based on the public and political life of the Venezuelan Ex-President from the day of the rebellion he commanded on February 4th, 1992 until his death on March 2013. Aimed primarily to the understanding of international audiences, the documentary presents the ideological origins of Hugo Chávez which led him to challenge the political schemes in Venezuela during the early 90s.His contribution to the integration of Latin America and its affiliation with other international actors that supported ideas of sovereignty and anti-imperialist struggle. Chávez takes us to the crucial time of his illness and how it evolved without the Bolivarian leader putting aside his duties to the point of winning a new presidential election in 2012.

All proceeds from this film night will go directly to support communities from grassroots organisations to build a childcare centre to support families in areas affected by the economic blockade led by U.S.Any contributions are welcome.

Suggested donations
$10 General entry
$15 Solidarity
For further info, please call;
0425 539 149 , 0458 747 725, 0448 482 892

Presented by: Venezuela Solidarity Campaign (VSC). Supported by the Latin American Solidarity Network (LASNET)
School Strike4Climate
FRIDAY 15 OCTOBER 2021
Go to the site on this link for details and where go near where you are